In the vibrant South Ward of Newark, New Jersey, the South Ward Environmental Alliance (SWEA) has been tirelessly working since 2015 to address environmental justice issues that impact the community. With a mission to cultivate healthy and thriving neighborhoods, SWEA ensures that residents' voices are heard and that they actively participate in decision-making on policies that impact their area.
SWEA was one of the organizations selected to join Dodge Foundation's inaugural cohort of the Momentum Fund. Launched in the fall of 2021, the Momentum Fund used a new community-engaged process to select and fund ten emerging organizations employing innovative strategies to address the root causes of structural racism in New Jersey. SWEA's work leverages two of the key systems change strategies that we prioritize in our grantmaking: Building Power and Strengthening Economic Resilience. By adopting a holistic view of environmental justice, SWEA strives to address the root causes of structural racism, as well as the social and economic disparities that often accompany environmental injustice.
Their work truly centers the lived-experiences of their residents, bringing forward the perspectives, ideas, and talents of the community where they live and work. They work across environmental issues like air quality and water equity, while also providing leadership training to young adults, residents, and leaders to create the next generation of environmental leaders in the South Ward. Their goal is to improve the lives of the South Ward residents who are disproportionately burdened with cumulative impacts of pollution, which negatively impact their health and quality of life.
Kim Gaddy, Founder and Director of SWEA, has seen firsthand the detrimental effects of poor air quality in the area. "The South Ward is the backyard to the third largest port in the nation, with thousands of trucks traveling through daily and contributing to incredibly high rates of pollution," says Gaddy. "With the high proportion of polluting facilities and vehicles in our neighborhoods, Newark has a staggering rate of 1 in 4 children who have asthma compared to 1 in 10 in all of Essex County," she explains.
That's why SWEA launched an Air Quality Monitoring Project, using 'purple air monitors' strategically placed throughout the community for hyper-local air monitoring. These monitors, which are low-cost air quality sensors, are stationed at places like churches, daycare centers, and public housing buildings – places that are not traditionally the center of data collection on pollution. Through this project, they can collect real-time data, advocate for stronger regulations to protect public health, and ensure that residents are better informed, empowered, and engaged on key environmental issues that impact their health and quality of life.
"We know the importance of engaging our community, and we see firsthand how residents, when empowered with information, can push for change that is meaningful to their lives," says Gaddy. One activity that SWEA runs to engage residents every year is their annual 'truck count,' where they ask community members to stand outside and track the trucks that pass through their neighborhood. "When parents see that hundreds of trucks come through in just an hour, they understand the impacts on their kids and their families, and they want to get involved for change."
In addition to fighting for improved air quality, SWEA's Green Infrastructure Program is a key initiative that focuses on improving stormwater management, reducing localized flooding, and combatting combined sewer overflows. "Whenever it rains for more than 20 minutes, the catch basins fill and the rain backs up into people's homes or on the street," explains Gaddy. "So, when residents are walking through a neighborhood, they are walking through waste." SWEA works with community members to design and implement green infrastructure projects, such as rain gardens and permeable pavements, that help manage stormwater runoff, improve water quality, and beautify the neighborhood.
Hurricanes Sandy and Ida showed clearly the devasting impacts of the environmental injustices facing the South Ward community. "Our communities and houses flooded with water up to 20ft," says Gaddy. "Residents lost their cars, often a part of their livelihoods, and our community was the first to lose electricity and one of the last to regain it. This is the norm in environmental justice communities versus the neighboring suburbs."
One important strategy that SWEA believes can combat environmental issues is to push the city to adopt greener technologies and practices – moving away from the city's dependance on fossil fuels and instead providing incentives to businesses that are prioritizing more renewable energy (like solar and wind). "We can create zero emission zones or green zones, and we can bring in businesses that work together with communities towards a healthier future," says Gaddy.
SWEA is creating tremendous impact through their programs, and the Dodge Foundation is honored to support their work and to invest in an organization that centers the voice of and builds collective power among their residents. SWEA's dedication to fostering a sense of ownership and responsibility among residents is one of its greatest strengths. By involving community members in the decision-making process and giving them the tools to address the environmental challenges they face, SWEA is not only improving the quality of life in the South Ward but also building a strong foundation for a sustainable and just future.
Gaddy emphasizes the importance of community involvement in shaping SWEA's plans and strategies. "You can't come up with a plan for a community you don't live in," she says. "We need to create plans that are inclusive, and that allow all voices to be heard. Every community member who sits at our table is an expert, and we respect the skills of all our residents."
For SWEA, a brighter future is one where their community is healthy, vibrant, and thriving. Gaddy envisions a world where "everyone, regardless of race, income, or zip code, has the opportunity to breathe clean air and have safe drinking water as a human right."
If you're interested in learning more about or supporting their work, please reach out to Asada Rashidi, Environmental Justice Organizer, Asada@southwardea.com.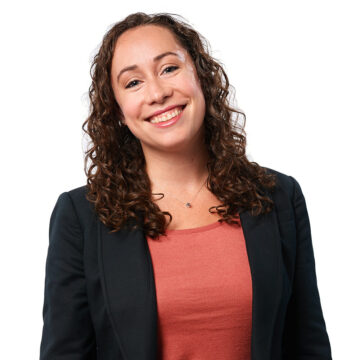 Janna Oberdorf
Janna Oberdorf leads the strategic communications efforts of the Dodge Foundation, with a focus on communications and engagement with community partners, amplifying the work of grantees, and sharing insights with the broader field.