In November, the Dodge Foundation convened our inaugural Momentum Fund cohort. Launched in the fall of 2021, the Momentum Fund used a new community-engaged process to select and fund ten emerging organizations who are employing innovative strategies to address root causes of structural racism in New Jersey. Each of the ten organizations receive unrestricted funding of $150,000 over three years, along with other capacity-building support. Our goal is to provide a runway of flexible funding that can offer these organizations time, space to explore new approaches, and more freedom to self-determine the best course forward in their work.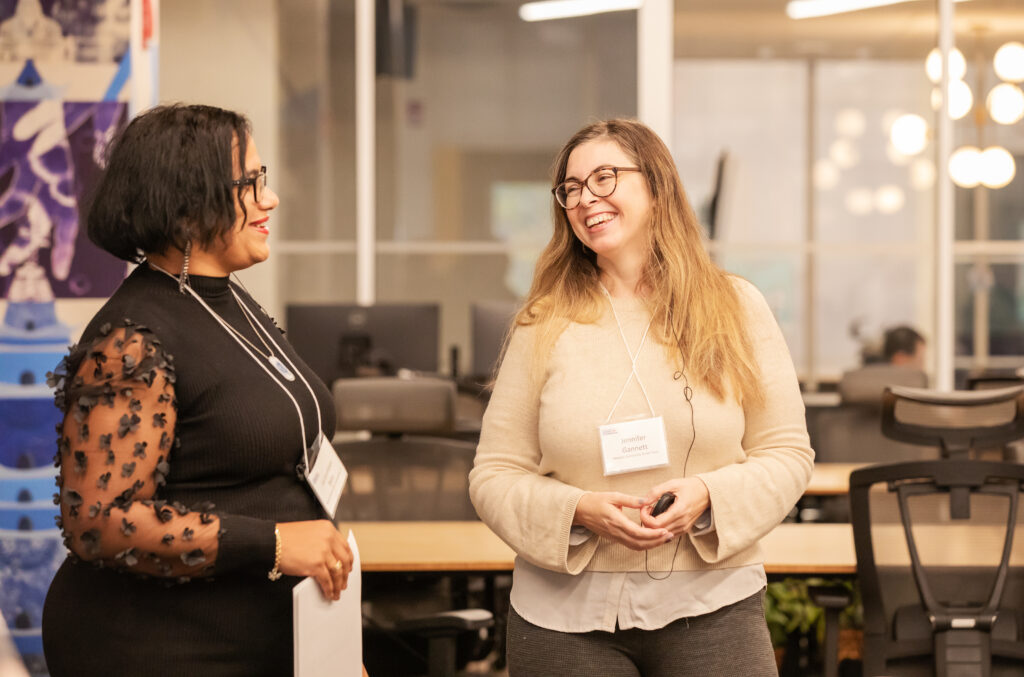 The convening, held at Launch Pad in Newark, facilitated by Kareem Willis of Radically Uncommon Group, focused on building community and provided space and time for the cohort to reflect on the first year of the Fund and to set the course for the remaining two years focused on building capacity and building power. Our key goal for this event was to build and deepen the relationships among Momentum Fund cohort members as well as between cohort members and the Dodge Foundation team. While we used this time to dig in on key challenges and strategies to move forward, we also created space for connection and celebration. These organizations are all doing important work across the state to tackle inequities and injustice, and being together in community was a powerful moment in our partnership.
In addition to sessions focused on peer-to-peer learning and future-looking co-creation, the event provided grounding and inspiration as the cohort moves into the second year of the initiative. We were honored to have three integral partners and members of our community welcome participants and share about their own journeys as social justice practitioners: Reverend Charles Boyer, Salvation and Social Justice; Maria Lopez-Nunez, Ironbound Community Corporation; and Hawwa Muhammad, Pink Trumpet.
They talked about their personal experience, and provided advice on sustainability and longevity, building and strengthening an organization, and leading in partnership with your community. Reverend Boyer lifted up the need to stay connected to communities, not just in times of significant organizational 'wins,' but at all times. As he said:
"[What matters is…] the tenacious work, relationship building, and most importantly, service to the people most directly impacted by the issues, in between the wins. Because the wins can't come unless those that are under the heavy weight of the issue are mobilized and have realized their power and their ability to break down the barriers which they face.
People who have been beaten down by the system see a fraud very clearly. But, people will stand alongside you if you are not a stranger, and if they trust you because you've been serving their needs and seeing their value and power all of those days prior to the moment in time when you're able to move that issue."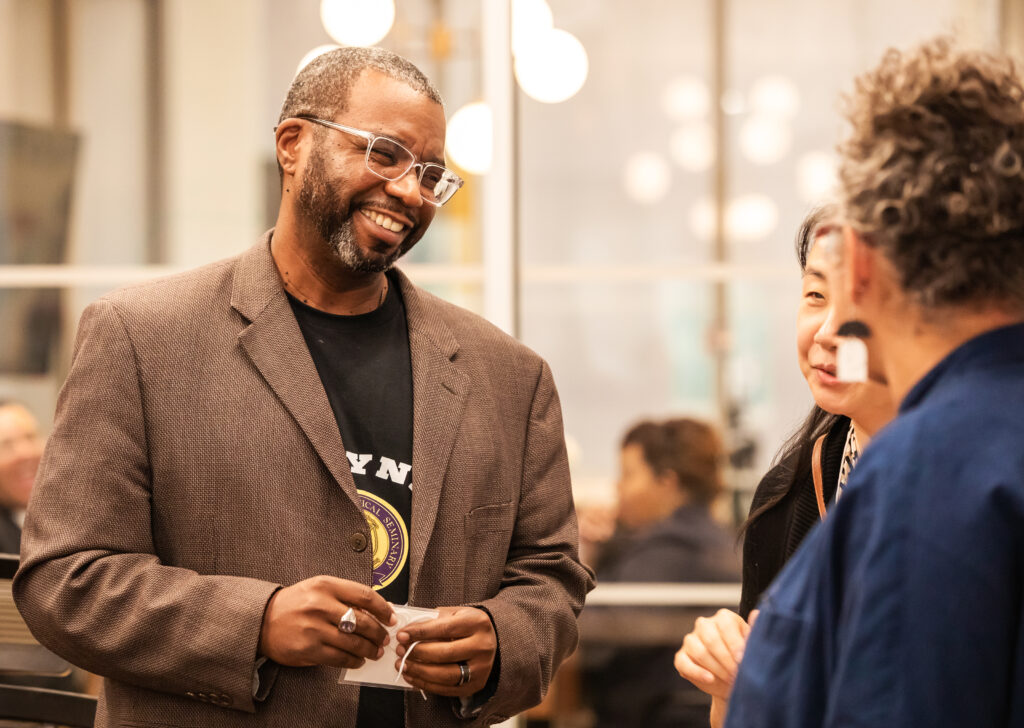 The speakers also discussed some of the most significant challenges they face on a day-to-day basis, and the need to balance long-term vision with the real-time needs of their community. As Maria Lopez-Nunez said:
"Navigating the realness of the situation while trying to push for systemic change actually tears me apart sometimes because systemic change takes so long to become real to people – something that people can feel and touch. The tension of the immediacy of the moment and the urgency rips through your heart. Acknowledging it constantly is important, because we can get stuck in one way feeling like there's supremacy in policy over direct service… We need the relationships on the ground, so that people feel wrapped around and hugged by the change."
We look forward to convening our Momentum Fund cohort again in 2023 and continuing to support their work over our three-year partnership. As one of our cohort members said in a follow-up survey:
[This is…] a unique cross-sector, cross-geography, cross-interest, multiracial group of people fighting for social justice in New Jersey. These spaces don't happen often.
We will continue to learn alongside our Momentum Fund partners, and to take the lessons learned and shared to strengthen all of our work ahead.
Learn more about the Momentum Fund partners:
Comite de Apoyo a los Trabajadores Agricolas – CATA Glassboro, NJ
CATA facilitates the leadership development of the farmworker and immigrant communities as they strive for better working and living conditions. They use community engagement and capacity building so workers are prepared to lead their own advocacy and organizing campaigns for justice.
Education & Training Institute, Inc (New Labor) New Brunswick, NJ
New Labor educates, organizes, and fights for better work conditions and social justice in the workplace. With a base of around 4,000 members, New Labor organizes to empower its members and amplify their voices in the community, workplace, and political realm.
IDEA Institute for the Development of Education in the Arts Camden, NJ
The Institute for the Development of Education in the Arts (IDEA) is as arts education and creative learning organization that connects underserved youth and their families to the life-affirming quality of the arts. Their work is about building more socially resourceful and vibrant communities by strengthening human potential through creativity, culture, and arts based learning.
New Jersey Resource Project West Creek, NJ
Based primarily in South and Central New Jersey, the New Jersey Resource Project educates and connects community leaders and those directly impacted who have critical expertise to work together for solutions and to take action toward an economically just and resilient future.
Newark Community Street Team Newark, NJ
Newark Community Street Team (NCST) is a resident-run organization whose mission is to reduce violence in the South Ward of Newark through a community-based strategy that does not rely on arrest and incarceration. NCST treats community violence as a public health issue by intervening in, preventing and treating violence.
Newark Science and Sustainability, Inc. Newark, NJ
Newark Science and Sustainability, Inc. works to eradicate the normalcy of food deserts in historically underserved and underrepresented communities while building pathways to green jobs. Thier motto "Think Global, Act Local, that's Glocal" drives the development of equitable programming in NJ and in the Dominican Republic.
Palestinian American Community Center Clifton, NJ
PACC is strictly a non-political and non-religious organization whose mission is to sustain and strengthen ties to Palestinian heritage while empowering the success and well-being of the entire community.
South Ward Environmental Alliance (Clinton Hill Community Action) Newark, NJ
The South Ward Environmental Alliance (SWEA) is a grassroots environmental justice organization with a goal to reduce air pollution and protect the health of residents in the Clinton Hill, Dayton Street, and Weequahic neighborhoods of the South Ward. SWEA's motto is One Ward United for Environmental Justice.
The HUBB Arts & Trauma Center Newark, NJ
The HUBB uses therapeutic arts and entertainment as a key outreach and engagement strategy to reach youth and support families. Their current facility includes a state-of-the-art recording studio, video production room, podcast radio station, and computer work areas, as well as group meeting spaces to support deep creativity and therapeutic and restorative groupwork (called "Circles").
VietLead (Urban Affairs Coalition) Camden, NJ
VietLead is a strong grassroots community organization based in Camden & Philadelphia, that is creating a vision and strategy for community self-determination, social justice, and cultural resilience. VietLead has been deeply embedded in Camden County organizing Southeast Asian, Black and Brown youth and community for six years through their urban agriculture, youth leadership, civic engagement, community defense and health & healing programs.