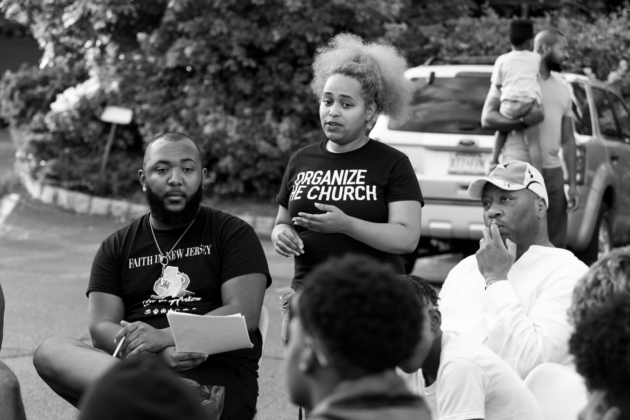 See grants listed on our website.
In our most recent round of funding, the Dodge Foundation made two major, multimillion-dollar grants to projects focused on power building and economic resilience. These grants, to the Racial Justice Alignment Group of Black, Indigenous, and Brown leaders and the Paterson "One Square Mile" initiative from Montclair State University, strengthen our work towards a just and equitable New Jersey. In addition to these grants, we provided support to 27 additional organizations, representing our purposeful efforts to support partners and institutions contributing to the vibrancy of our state.
Building Power
In this cycle, we provided a $1.1M, two-year grant to the Racial Justice Alignment Group of Black, Indigenous, and Brown leaders strategizing and organizing to end structural racism.
The group began meeting in August 2020, when a core group of Black, Indigenous, and Latinx leaders came together to understand and coordinate efforts to end structural racism in New Jersey. Core parts of their success include building power with people directly impacted by structural racism, fostering and developing Black, Indigenous, and Latinx leadership in New Jersey's racial justice movement, and advancing community-led policy solutions. With our grant, we are proud to join the founding funders, The Fund for New Jersey and Robert Wood Johnson Foundation.
Through its collective efforts, the group has expanded and galvanized the field by strengthening and aligning organizing and advocacy on critical policies that impact communities of color. These priorities include the Ban the Box campaign to end housing discrimination against returning citizens, moratoriums on evictions from rentals and foreclosures during the worst of the COVID-19 pandemic, and the Domestic Workers Bill of Rights, among others. Most importantly, the group has strengthened a people power-centered approach to building a racial justice movement in New Jersey.
Supporting Economic Resilience
Through the "One Square Mile" initiative, Montclair State University seeks to implement a hyper-local, place-based community engagement model to accelerate the revitalization of a concentrated area in Paterson, New Jersey. Through strategically organized community engagement efforts focused on a bounded area within the city of Paterson, NJ, the goal of this work is to improve equitable outcomes in health, education, and economic opportunity for the residents of Paterson through a community-led collective impact initiative. Further, Montclair will enhance its ability to form partnerships and advance community development, by connecting the resources and investments of the campus to the community in ways that foster mutually beneficial impacts.            
This project will center on the establishment of a University-Assisted Community School that will function as a "service hub." Project partners will create a cross-sector advisory group to identify and direct additional solutions and investments beyond the Community School over the next several years. The newly established community school will provide increased access to needed wrap-around services for high school students and families in the high-need neighborhoods immediately surrounding the school. Community schools provide tremendous opportunities for learning and success. They are designed with the understanding that students from historically under-invested in communities often enter the classroom with serious socio-economic and health challenges that significantly hinder their ability to learn, explore, and develop to their fullest potential. They are community hubs that provide free healthy meals, health care, academic support interventions, mental health counseling and referral services, and other tailored services before, during, and after school for both students and families. These characteristics of a community school increase equity and support economic resilience by providing children and families with services, supports, and engagement that are often lacking in schools serving lower-income communities.
Centering Racial Equity with Imagine a New Way Partners
In our Imagine a New Way grantmaking, we have been investing in and taking guidance from networks, movements, organizations, and leaders who are closest to the harms of injustice; who have been historically excluded from investment and opportunity; and who are working to address the root cause and repair of structural racism and inequity in their work. We are proud to provide nine additional grants under this strategy to partners leading organizations and initiatives that strategically build power, dismantle systems of injustice, and strengthen economic resilience.
Many of these grants will provide our Imagine a New Way partners with a second year of funding. These grants represent our commitment to building long-term, and multiple-year, relationships with racial justice-focused partners and leaders.
Looking Ahead
We are proud to have allocated a third of our overall funding to root cause and repair-centered work across New Jersey. As we look to 2023, we are eager to further strengthen and grow our work focused on justice and equity.